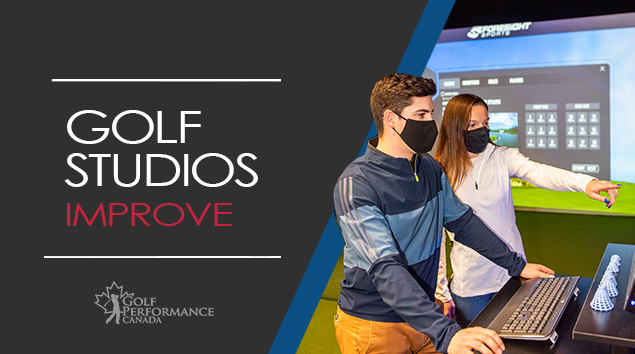 Golf is a difficult game and some may say even more difficult to improve at. Having feedback during practice is a key component to improving your game. Getting feedback on the driving range or pitching green is very difficult to set up and takes a lot of time. The best players in the world use data to measure their game.

For example, if you are going to improve your wedge game, you need to know exactly how far you are from the flag on every distance from 30-100 yards. When you practice on the range how often do you know exactly how far your ball went, the carry distance, or the proximity to your target? It is nearly impossible to set up a good practice session with proper feedback outdoors..
Technology
Now you can practice and improve your game just like the best in the world. You can get the feedback you need to measure where you are today, as well as measure your improvement. Foresight launch monitor technology is the most accurate data available today and is the future of golf improvement, equipment fitting and year round golf in cold climates. Do you know how far every club in your bag goes? Now you can. Do you know how to flight all of your wedges? Now you can. Do you know how to optimize distance with your driver? Now you can.

If you are thinking about taking up the game, or have played for a while and want to learn more, there
is no better way to focus on improving your game. You can book some time with a PGA of Canada
professional to learn how to use technology to improve your game, or you can book it on your own to
supercharge your practice time.
Coaching
At Golf Performance Canada we believe that we need to see all of our clients play the game of golf in order to help you play better golf.

If you've been playing and haven't noticed any improvement in your game, it may be time for golf lessons. Maybe you've read some tips but haven't had the motivation to implement them. Maybe you're not sure what's wrong. You could even be using the wrong clubs. Don't let problems with easy solutions discourage you from the game; Golf Performance Canada can help.

Learn to golf with PGA of Canada-certified professionals dedicated not just to teaching you the game, but teaching you to excel at it. Learning to golf in a studio lets you play a few holes before you need to go to the course. We teach at two locations in Calgary, depending on the season, to make year-round lessons possible. Our coaching program was developed in-house using a combination of on-course instruction, personalized practice plans, private coaching sessions and technology to ensure you reach
your goals.

Golf Performance Canada provides an opportunity to meet other players at your skill level through our community, which can make learning more fun. Golf isn't just a series of motions, it's an entire game and you need someone to show you how to play your best.

We Guarantee Results And All You Have To Do Is Follow Three Simple Steps:
Contact us and tell us a little about your game or book your game evaluation online (available year round).
After your evaluation we will set a goal for you and lay out a personalized plan.
Follow your plan and play your best golf- Guaranteed!

---
Frequently Asked Questions
Q: How can indoors possibly be better than seeing my ball fly outdoors?
Indoors affords you control of the environment in which you practice (ball, weather, lie). The technology gives you a virtual ball flight as well. You must use a good ball to practice- Literally! Range balls launch at different heights, spin and speed. If you practice with a range ball you will be developing feel with a range ball rather than the ball you play with.
The way we currently practice outdoors is the reason why improving at golf is difficult. Knowing how far your ball is going and the proximity to the target is important information to have when practicing. This is something that is missing on a driving range, as well as using a ball that is different from what you will play on the course.
Q: Can we just take the technology to the driving range?
Yes we can, with some considerations. If we are going to a range with range balls then the problem is you are using a ball that doesn't do what a good ball does on the course. It is very difficult to find a range with premium balls, but if you do we will gladly meet you there.
Q: I find range mats nothing like real grass.
We would have to agree to some extent. We work on ball striking as our primary concept to all of our instruction. If you can master our Three Rules of Impact on artificial turf, you will be able to improve your contact on grass.
Interested in Private Golf Lessons or Group Programs?
If you have a question about the Game of Golf, we are here to Help! Send us a message below or call at 403-453-4653.