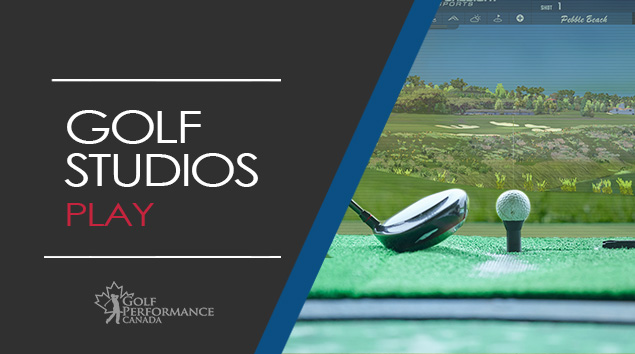 Playing golf year round in Canada is impossible and uncomfortable in the winter, even if you are able. Now you can play anytime, anywhere (literally any elevation and course condition) and all year round! You can play a round in the middle of the night, or you can play the same course that is being played on tour with real time weather conditions and elevation. The only thing missing is bad lies and bad weather. You will be warm either way. You can also play the fastest round of golf of your life. One person can play 18 holes in under an hour.
Golf
We have famous courses like Pebble Beach and St Andrews as well as over 60 others for you to choose. Travel to Scotland, Hawaii, California, Dubai and around the world.. Our 15 foot projection screens, 4K graphics and Foresight Sports launch monitors provide an experience so realistic you will think you are there.
You can enjoy our fully stocked food and beverage card courtesy of Hotel Arts.
Foresight Fairgrounds
Introduce your kids to the game with Foresight Fairgrounds. Combining classic carnival-style fun with short game skill-building, our Fairgrounds game pack is designed to deliver hours of fun for the entire family. Even beginning golfers will love this ever-growing collection of games which includes favorites like Putt Skee, Balloon Pop, Shooting Gallery, Splash Wall, and Darts. Grab the popcorn and let the games begin!

Zombie Golf
Fight the undead horde with your club of choice and build your accuracy skills at the same time! In this battle against the clock, players can choose to either take out approaching zombies, or focus their shots on the crypts where the undead are spawned. Zombie Golf is the ultimate skill-building game for golfers of all ages.

---
Frequently Asked Questions
Q: How does putting work?
Our launch monitors measure actual ball speed and trajectory, whether in the air or on the ground. This means our launch monitors are as accurate with your putter as they are with the driver. The software allows you to set gimmes to whatever length you and your partners agree. Or skip putting all together using the "auto Putt" setting that will simply assign you a number of putts based on how far you are from the hole.
Q: What courses can I play?
Our two QC Hawk studios have over 50 golf courses to choose from. To see a full list please click here.
Q: How long does it take to play 18 holes?
One great thing about our golf studios is that you don't have to worry about the group ahead of you being slow! While the time to play varies, depending on your approach, we suggest you budget 1 hour for each player in the group for 18 holes, ie. one person can play 18 holes in one hour, two people in two hours, three people in three hours, etc. Want to play a sixsome? No problem… just be sure to reserve 6 hours!
Interested in Private Golf Lessons or Group Programs?
If you have a question about the Game of Golf, we are here to Help! Send us a message below or call at 403-453-4653.